> voir aussi : Preparing the interview of Colson Griffith…

The teacher's word : (le mot de la prof)
In keeping with the theme we study in class at the moment entitled 'Good people and good deeds' the pupils have had to prepare an interview of an American wedding photographer who also happens to participate to and organize many events to help people in need. After having studied a video in which he was presenting one of these good deeds (the Help portrait event …) they also had to study some pages of his blog to get to know him and discover other things he had done in order to prepare this interview. We have the chance to have a great equipment at school (a top camera/webcam and a great system for video conferences) and it was my wish to use it with my classes and give the opportunity to my students to communicate directly with a native speaker without having the person necessarily to be physically present in the class. And it all happened on Thursday the 23rd of May at 8 am (French time) and the chat lasted one hour and 30 minutes! Our correspondent was 9 hours behind us; so for him, in San Francisco, the time was 11 pm but he did not hesitate to give us some of his precious sleeping time. As a teacher, I am particularly proud of my class who did very well! They asked many questions which were all relevant and thoughtful and they were very polite and nice to our guest. Once again, I want to congratulate them on this really good work! Here are the few lines they wrote about this first experience, and which, I hope, won't be the last.

En lien avec le thème que nous étudions en classe en ce moment intitulé ' les bonnes personnes et les bonnes actions', les élèves ont eu à préparer une interview d'un photographe de mariages américain, Colson Griffith, qui participe et organise aussi beaucoup d'évènements en vue d'aider les personnes dans le besoin. Après avoir étudié une vidéo dans laquelle il présentait une de ces bonnes actions, ils ont aussi eu à étudier des pages de son blog pour apprendre à le connaître et découvrir les autres choses qu'il avait pu faire pour pouvoir préparer cette interview. Nous avons la chance d'avoir un équipement formidable au lycée (une super caméra/webcam et un super système de visioconférence) et c'était mon souhait de l'utiliser avec mes classes et de donner l'opportunité à mes élèves de communiquer directement avec un anglophone sans que la personne soit physiquement présente dans ma classe. Et c'est arrivé ce jeudi 23 mai à 8 heures du matin (heure française) et la discussion a duré une heure et demie ! Notre correspondant avait 9 heures de décalage avec nous ; donc, pour lui, à San Francisco, il était 23h mais il n'a pas hésité à nous consacrer de son précieux temps de sommeil. En tant que professeur, je suis particulièrement fière de ma classe qui s'en est remarquablement bien sortie. Ils ont posé beaucoup de questions qui étaient toutes pertinentes et réfléchies et ils ont tous été très polis et sympathiques envers notre invité. De nouveau, je veux les féliciter pour ce très bon travail. Voici les quelques lignes qu'ils ont écrites à propos de cette première expérience, qui, je l'espère ne sera pas la dernière.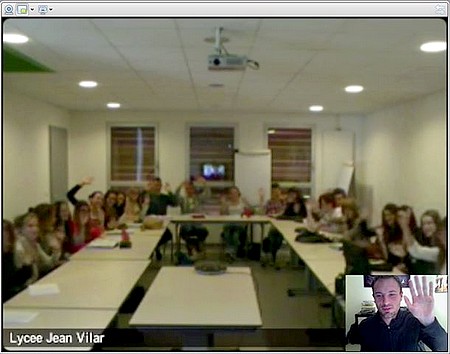 STUDENTS' IMPRESSIONS AFTER THE VIDEO CONFERENCE WITH COLSON GRIFFITH
Anéma B. & Sara R.
"It was awesome; we really appreciated the fact of meeting Colson Griffith. He was so nice with us, well, Colson has a big heart, and he is really friendly. He answered to all of our questions, and that was pretty surprising. He took some of his time to "be" with us. Now we know more about all the things that he has done, and it's kind of huge. It was very interesting to share all that stuff with him, and we do think that we have to do it again. It allowed us to improve our English. And we really want to say thanks!"
VERA Claire, MALLERET Manon, GRAND Naomi
"Colson Griffith is an American. He drives a BMW, he lives in San Francisco, California, he is a photographer, he celebrates Thanksgiving, he speaks loud and with his typical American accent. But he is not like any American! He is not a believer, he is not superficial, and he is not selfish. Indeed, he is generous, and he takes actions in loads and loads of charities, which, we think, makes him a good person. It was a great experience to talk with him directly, and to be able to ask him questions. He is welcoming and always ready to answer to any of our questions with sincerity, even when he didn't know what to say … About him driving a BMW, he answered "Hum, it's a tough question, you gave me good one!". He is very kind, kind enough to give his time to us or to any association for any cause! To conclude, Colson is really nice, and it would be great to talk to him again later!"
Dorian Durand & Alice Serenyan
"So, this morning we met a wedding photographer through a video conference, but apart from his job, in his everyday life he also participates to charities and associations. He doesn't think he is a good person and he doesn't think he is a bad person, but he's just proud of the fact that he tries to be a nice one. He has a blog on the internet where he brings everything which seems important to him and sometimes not. Actually he was training not so long ago for a marathon for blood cancers. He also is in an association called "Big brothers and Big sisters" which matches people with kids who need help and support. As a matter of fact, he has a little brother and he was matched to him because when he met him, this young boy had his brother and his father both in jail and so he needed a sort of male figure to refer to in his surroundings. Two years ago he went to Africa to help, but actually he felt like a tourist. We met someone nice and kind but also funny, he's ready to help people all the time. For example, he accepted to participate to a video conference with us, to help the class in our work, and he did it on his sleeping-time."

Léa I. & Océane R. & Elise R.
"Interviewing Colson was good because we had never done it before in class. We learnt a lot of things about him and his good deeds. With this interview, we know that Colson is a really good person even if we already knew that, it confirmed this idea.
The fact that we talked to him directly thanks to the videoconference was a good experience because it made us want to help people in need just like he's doing, for example with Help Portrait and Big Brother and Big Sister."
Foglia Laetitia & Voulon Agnès & Weiskopff Lois
"On the 23rd of May 2013, we met Colson Griffith, an American photographer from San Francisco, California. He's also doing a lot of charitable actions, and we worked on that in class. So, we asked him by videoconference, a lot of questions, to which he answered interestingly.
He brought us a lot of information about his actions, and his point of view about charities and the ideas behind good deeds. He has been really welcoming to us, and we had a good time doing this new experience (videoconference in class).
We hope that we can work again with him, on the topic of photography for example, which is his job."
Prescilla Betton & Marie-Angélique Deflorenne
"Colson was very cool; he seems to be an open-minded and relaxed and easy to communicate with person. We could feel that he knew what he was talking about and that he loves what he is doing. He spoke a lot and sometimes it was quite difficult to understand what he said. He explained greatly what he did and there was a good exchange. He made us want to do good deeds and we think that he is a good person as he thinks that he tries to be so. But thanks to this interview, we can say that he is. That was very strange to speak with a person in America and a lot of people in the class felt shy. However, it was a very good experience and it would be good to do it again!"
Darlène R., Jennifer V. & Solène D.
It was great to have the opportunity to ask questions to Colson and his answers were really interesting. We think it proved us that volunteering in an organization or helping fundraising always provides you a great feeling because it's rewarding. It also seems like volunteering is something much more common in America than it is in France. Of course, it encouraged us to participate to goods deeds as he does because he really seems to change things for some people even if it can seem like a drop in the ocean sometimes.